We had the pleasure of chatting with Colina  from Cian's Mustard and learning all about their great company for this weeks featured business. We hope you enjoy our interview.
Let's jump in!
Please tell us about Cian's Mustard! Why did you start a mustard company?
It all began with a family recipe and one young man's taste for mustard sandwiches. My father, Colin, is a Master Butcher who began making homemade mustard. When I married, my husband Cameron loved his mustard and we often thought about sharing the mustard with others.
When our son was young, his favourite snack was mustard sandwiches: bread and mustard.
With more thought about sharing this mustard with others, a decision was made to start a family business, though we struggled to find a name that we all liked.  That's when Colin suggested that we call it Cian's Mustard. I believe our first market was in 2013 and we have been growing ever since.
We have faced numerous challenges in growing our business over the years. Our appreciation of those challenges has created an opportunity for us to assist other food producers.
We operate an AHS approved facility with a 304 litre steam kettle, which is a rare piece of equipment.  We rent it to other growing producers.
It is marvellous to collaborate with other business owners when you see these local food producers growing sustainably.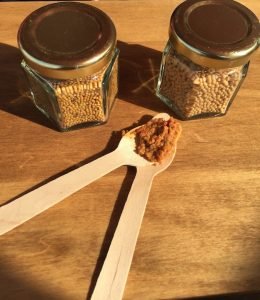 Curious, what are some of the health benefits of consuming mustard?
Mustard can benefit your metabolism – the seeds are packed with B-complex vitamins like folates, niacin, thiamine and riboflavin, which are great in speeding up one's metabolism.
Mustard contains selenium and magnesium which can be anti inflammatory too. Mustard seed can be used in a warm bath, or as a mustard paste.
Where do you source your mustard ingredients? We see you mention local ingredients on your website, and would love to know more about this process!
Mustard production in Canada began on 40 hectares down in Southern Alberta. Currently, Saskatchewan grows the most volume of mustard though, & it can be found across Canada now.
We secure our mustard from Viterra who sources it from Alberta and Saskatchewan farmers.
As we go beyond the traditional formulation of prepared mustard (mustard and vinegar) we source ingredients from local producers and suppliers such as Bles-Wold Yogurt. Even our Maple syrup is sourced from a local supplier who's family operates a Maple company in Quebec.
What are your favourite mustards that you make?!
I am fortunate to enjoy making all of our mustards as I know each are favourites for a friend or a family member. However, my personal favourite to make and enjoy is Cian's Honey Hot.
Can you please tell our readers about your upcoming events that you will be attending?
As our outdoor market season has now come to an end, we step inside the world of Fall and Christmas Markets. Every weekend until December we can be found at a variety of local and not so local markets.
We have expanded into Medicine Hat, Lethbridge, Regina and Saskatoon this year. Recently, we had our first show in Fort McMurray.
As there are too many to mention, I would encourage checking out our website calendar by clicking here.
We know you also have amazing Recipes on your website! Is there a particular recipe you'd like to tell us about and we could link back to it for our readers? What was the inspiration behind the recipe? A family favourite etc.,
As most know, I live with all men so variety is limited.
I encourage anyone with recipes to share them for our quarterly draw for a jar of mustard, I need all the help that I can get!
My favourite recipe is our sausage roll. It's quick, easy and customizable. Each of us at home has a favourite sausage and mustard, so I can prepare it as it is wanted. AND, I can freeze them once cooked, to be thawed and heated at a later time for a quick and easy meal. Here is a link to the Sausage Roll recipe, just click here.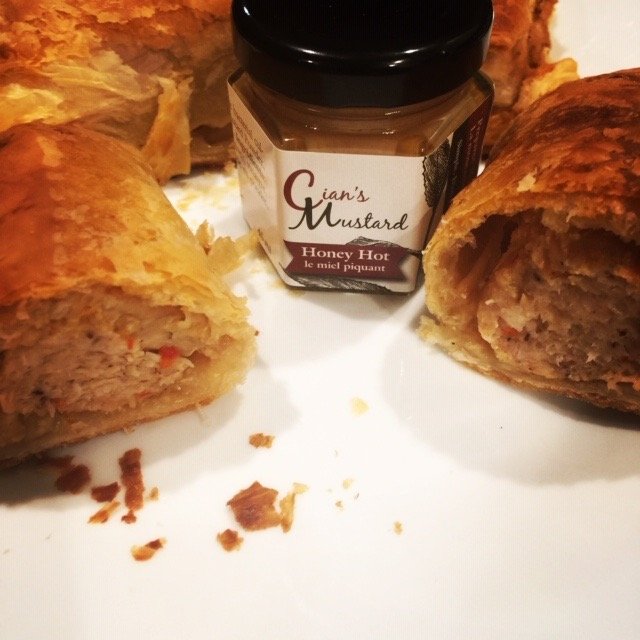 Where can people find your mustards?!
Here is a link to help people find us, please click here. That being said, please look at the information below too.
Airdrie: On Tap Oil & Vinegar, Skyefire Bakery, Homegrown
Calgary: Fresh & Local, Avenida Mercantile, Harry's Natural Meats, Spolumbo's Italian Deli, Bon Ton Meat Market. Damit Amit's Food Truck also uses our Honey Hot on his delicious Smokestack burger.
Strathmore: Pure Country Meats, Origin Malting & Brewery
Southern Alberta: Burgardt's Butcher Shop (High River), Country Food Mart/AG Foods (Black Diamond), Hirsche Frazer Meats (Okotoks)
Central Alberta: Sunshine Blends (Innisfail), Messinger Meats (Red Deer)
Edmonton & Area: Real Deal Meats, Butcher Block & Smokehouse, Acme Meats, Spruce Park Ranch, Ben's Meats & Deli, Grapevine Deli, Wilhauk's.
Thank you so much for taking the time to share your Mustard Business with our readers and us.  We loved learning about your company, and the health benefits of mustard too.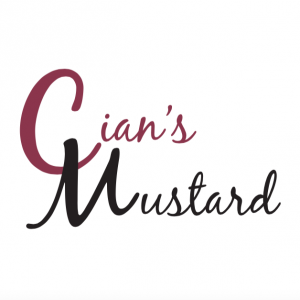 To connect with Cian's Mustard, please visit their website, click here. And, definitely support and follow this amazing Mustard Company by reaching out to them on Facebook, Twitter, and Instagram. Please click here to see their new Healthy Menu Showcase!