Paros on Main is Airdrie's best and longest-running Greek Restaurant!
Today, I had the pleasure of interviewing the owner of Paros on Main, Effrossini Tzigalanis! It was truly a great experience, and I hope you enjoy our interview below.
Let's go!
Please tell us about Paros on Main! We love your Greek food.
Okay! Well, we moved here in 2002, I think, in September then. At that time, there were only about 25,000 people in Airdrie, and yes, it was hard because people were not familiar with Greek cuisine and there weren't too many people at the time. The first 2-3 years, it was hard. It was a struggle for the business to keep going.
Yet, then I have Louis! He was a teenager at that time, and I have Mario, too; he was the youngest by one year. After school, both of them would come here to the restaurant. Louis would be at the front and Mario… he would be at the back cooking with me every day!
I would need help back then, as I couldn't afford cooks at the time. Louis would be the front person. He loves people! Slowly, Louis got to know the customers, and then we started having repeat customers. He was funny and he would serve back then, too. He wasn't even allowed to give alcohol as he was young, just taking orders and accepting payments back then. Slowly, customers loved him and our business got busier!
I supported him being friendly and talking to the customers for a long time. So, customers loved him and wanted him to serve them. We even had customers call to ask for him. They loved the food and then talked to friends and it became busier! I can tell you the community supported me a lot, even today. I think they love us, and they keep coming back!
Many restaurants don't stand the test of time, but Paros on Main has been in business for 17 years now? What is your secret to such a successful restaurant? We'd say you are a part of what makes Airdrie special!
I think the food and the friendly atmosphere and I get to know most of the customers, and customers come to the kitchen to say hi! They hug me, and I think because I am cooking "open to close" every day, I don't have cooks all of the time, and the food is different. It is the same all of the time! When people come here, they feel like they go to their home, not their restaurant.
We make them comfortable. I think you have to love the business and you have to make sure they are happy, and I ask all of the time, are they happy.
So that makes me happy when they are happy! Lots of people say the food is amazing, that makes me, oh my gosh, it is very rewarding!
What would you consider some of your healthiest menu items? Why?
The salads. We make our own dressing for the salads. The spices we use. It's everything fresh.
We never pre-make the salads. We make it by the order.
We cook the meats right there. We have good quality ingredients. People pay and the menu is not inexpensive, so we order the best quality we can get of the meats, & the vegetables! Even when we are crazy busy, we make salads as they are ordered.
Let's chat about your lemon potatoes! They are so amazing. I had a friend who, when she was pregnant, would come in just for a side of them as part of her pregnancy cravings.
Okay the Lemon Potatoes are very popular and very famous.
Almost every table asks for how we make the potatoes and Tzatziki. Those two are the most popular. They want to know.
Well it is a secret, ha ha ha. But, I have given the recipe for real to a couple of people, and they say it is not the same! They try to make the potatoes! But, it is true, I do give the recipe.
Do you have any other locations outside of Airdrie?
Okay, we have Royal Oak; it is called Paros Real Greek. And then the other one is downtown. I think it is 8th and 14th or 15th, that one is also Paros Real Greek. There is a third one coming up with my boys! They are doing very good, working hard open to close and they make everything there, everything fresh. Yet, it is not a big restaurant like ours, but they make everything there. They have the guiro, and it is homemade!
The exact locations for each of the Paros Greek Restaurant's are:

Paros on Main: 113 Main St N, Airdrie, AB T4B 0R2

Paros Real Greek, Royal Oaks, Calgary: 8650 112 Ave NW, Calgary, AB T3R 0R5

Paros Real Greek, Downtown, Calgary: 1436 8 St SW, Calgary, AB T2R 1R7
We see you wrote a book 'Reservation for 10', about your Paros on 4th. Please tell us about it!
It is really neat. Actually, it is available on Amazon right now, click here! It is a funny book, because all of those years, what's happened here is a little crazy with the staff. I wrote down when I had time a little, a little bit and I made the book. And everybody, I think they find the book is funny! So my husband and me, right, his English is bad, bad, bad.. But mine is bad, but his very bad! How my husband talked to the staff was like an old fashioned, Greek man. When the staff works here a long time, they get to understand him. The way he acts and talks. M hmmm. It is on Amazon. It's a true story.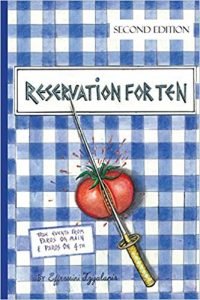 The most important is how we got Paros on 4th and it is the most funny part, and then the Paros on Main. We were at 4th month for month with no lease, and because the business was very long. And some company bought the whole building, so they took it down, and now it is a big, brand new high rise, but they promised we would go back at the new location and we lost the money and the location from this development company. So, we lost the money.
After that, we looked for a new location, and a friend of mine mentioned a location and then I came here with Louis and Mario, and Louis said no mom, no mom, because it was in chaos here. I told him, don't look the way it is now, I have a vision of how I am going to fix it now. Slowly we were going to fix it. No money either at that time. And friends, Greek good friends helped a lot. They did a lot. They did the renovations, no payments!
Let's briefly chat "community", as you are a big part of it! You recently were a sponsor for Volunteer Airdrie Society's award that was given to Rabia Abdullah for her amazing volunteer efforts. Can you tell us a bit about why you sponsored this non-for-profit and why volunteering is important to you?
Even when I first opened, when it wasn't busy, still I wanted to help, right? It doesn't matter. A little bit or not. I wanted to be involved in the community, and the only thing I could think, I could do something. Like, they can have food here, they can have families here, meet with the kids. With the Community Links, they are very nice people, all the ladies that are there. I started 9 years ago, for families that meet here that have no jobs, unemployed people, before Christmas, they have a whole big party here, Santa Claus, lots of presents for the kids, that's Paros's doing for 9 years now, and that is my Christmas party every year. I enjoy it! You can see the kids happy, excited, and they enjoy it! The community links organize the families, and I have the restaurant open for them and their kids.
I had a server back at the time, and he mentioned that his sister worked at Community Links, and so I asked if they needed help with something, whatever you wanted to offer and that was the start of the Christmas party!
In 2009, I had a surprise party and was awarded Airdrie Ambassador 2009 for volunteer work.
In 100 years, I have gotten it and no one had gotten it. I think I never did big things, but I did, anybody asked for something, I say yes. I know how it looks when people need help. You have to give, not only to get, you have to give when they need it. Maybe I don't have gas money, but I can say you can come in to eat. Now, when I am supported, I can give back to the community. The community and the people keep us going.
Thank you Effrossini Tzigalanis for taking the time to do this great interview!  We are thrilled to share it on Healthy Dine Out.  It was a delight to meet you and have you share your restaurant's history and stories with myself and our readers. You are an inspiring entrepreneur in the food industry, and your incredible high-quality foods and restaurant are a wonderful part of what makes the City of Airdrie so special!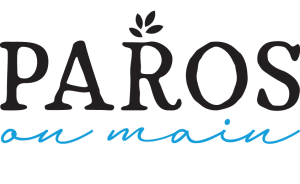 Paros On Main's website, please click here. 
To Like and follow Paros on Main on Facebook, please click here. 
To view their Healthy Menu Showcase, please click here.